Star Wars x Harveys
Don't put away those lightsabers yet…we still have more galactic Star Wars stuff coming your way! The latest drop from Harvey's pay homage to everyone's favorite Rebel Princess, Leia. The creators of the iconic seatbelt bags, bring us bags, shirts, scarves and other accessories as unique as Leia herself.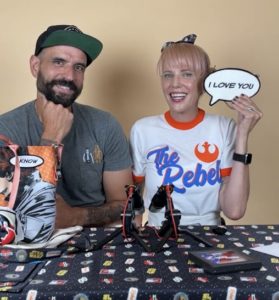 The Ringer
Full disclosure, I did no less than four outfit changes today because I couldn't pick just on Star Wars shirt to wear, so, I wore them all. Clearly, the Princess Leia Rebel Ringer tee had to be added to my collection! I love the vintage look of it.
Obviously, I'm Team Princess. I love the back detail that features "77" as the number…the year "A New Hope" was released.
If Leia Was a Purse
If Leia was a purse she would 100% be this Harvey's Lola Satchel. The neutral colors are reminiscent of Leia's various outfits. The espresso colored braided top handle? Her iconic buns of course!
Let's talk about the details. The purse features antique gold hardware and an antique brass Rebel symbol zipper pull
The lining is pretty great too (side note, they also have some bags in this material).
"I love you"…
"I know". Ah yes, the most classic unromantic romantic line there ever was. This exchange between Leia and Han  comes to us in the form of a two sided coin purse.
The coin purse is the perfect size to attach or throw in a larger bag or use on it's own. It's the perfect grab and go size!
Undercover Lover
Sorry, that cracks me up and I love that a few of the products from this line have that on them. The last two pieces we're sharing here (there are still a few we haven't covered) are the Princess Leia scarf and the Rebel Princess starter pack.
The scarf is perfect on your neck, in your hair or tied around your purse. I'm personally loving the depiction of Leia and Han in the middle of it.
The Rebel Princess starter pack has everything you need to channel Leia. With two stickers, three pins and a quintessential Rebel patch, you can turn any garment into something fit for a Rebel Princess!
May the Fourth Be With You
No matter how you choose to  represent Leia on May 4th or any other day, one thing is for certain; she is most definitely the most badass Rebel Princess in the galaxy!
Are you looking to plan a Disney vacation, but aren't sure where to start? As an agent with MickeyTravels, when you book your trip with me, I will be on hand to help you with everything! From finding the perfect package for your needs, to rate monitoring to ensure you are receiving the best price available from Disney. I work with all Disney Destinations, and can help you make the most of your magical vacation. Best of all, my services are absolutely FREE. Get in touch via email at mgrossdaichman@MickeyTravels.com or calling 732.239.4452. Also, make sure to CLICK HERE to follow along with my Facebook page for all things Disney!