NEW Dapper Day Pop Up Merchandise at Epcot – PHOTOS
In honor of the 10th Anniversary of Dapper Day, there is a Dapper Day Pop Up Shop outside the Germany pavilion in Epcot!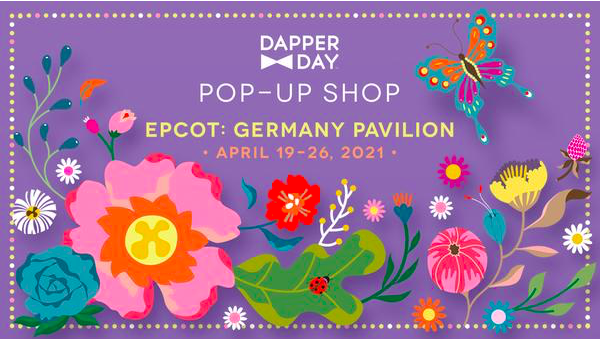 This weekend marks the 10th Anniversary of the fan favorite where guests dress in their finest and visit the parks. If you aren't familiar with Dapper Day, you can learn more about the organization and their events here. You may not realize it, but Dapper Day is not a Disney-operated event at the parks. It  is actually organized by a private organization that just wants to get everyone together in their finest vintage clothes (often Disney-inspired) at the parks like the good ol' days!
It's very exciting to see the Dapper Day Pop Up shop inside the park, since the event isn't officially run by Disney!
The merchandise at the pop up location features clothing, accessories, pins, and more! Check out these photos for a closer look at what you can expect to find at the shop!
Accessories and Pins
Clothing
The Dapper Day pop Up shop collection features tops, bottoms, dresses. There are even crinoline underskirts for getting that extra fluffy skirt effect! There's something for everyone!
If you want to take part in this weekend's events, all you have to do is show up! There is no ticket or registration required.
Dapper Day for Spring 2021 at Walt Disney world is at Magic Kingdom on Saturday, 4/24, and Epcot on Sunday, 4/25.
If you happen to snag an outfit from the Dapper Day pop up shop at Epcot, we would love to see photos!!
Are you looking to plan a Disney vacation, but aren't sure where to start? As an agent with MickeyTravels, when you book your trip with me, I will be on hand to help you with everything! From finding the perfect package for your needs, to rate monitoring to ensure you are receiving the best price available from Disney. I work with all Disney Destinations, and can help you make the most of your magical vacation. Best of all, my services are absolutely FREE. Get in touch via email at Slawless@MickeyTravels.com. Also, make sure to CLICK HERE to follow along with my Facebook page for all things Disney!