Mouse Ears Monday – April 5
A new week means new mouse ears! This week we're bringing you small shop ears, ears from the parks and even a few from Hawaii. Check out our finds!
I don't know about you, but I've definitely been following the whereabouts of Donald, Jose, and Panchito. What better way to pay homage to this festive trio than with a pair of Three Caballeros Ears! This sequence adorned pair is sure to turn heads in Epcot or at any fiesta.
The weather is getting warmer (well it's usually pretty warm in FL), flowers are starting to bloom and that can only mean one thing; it's Flower and Garden Festival time aka VIOLET LEMONADE time! Drink it in! These ears are inspired by violet lemonade, a super photogenic festival must drink.  Now you can rep this beautiful purple thirst quencher from head to, well, lips.
Speaking of flowers, check out these iris inspired ears we found in the parks and on ShopDisney. The soft mesh bow reminds us of the flower petals. Perfect for spring!
How awesome are these 3D printed ears (also did anyone else say 3D like Waldo from Muppet Vision 3D)? The details on these ears are incredible and make me long for the day when fireworks are back in the parks. With multiple ear color options, including a crystal Swarovski tiara, these are truly customizable and can easily become your key to happiness.
The Tori Richard Aulani Collection ears are giving us some serious tropical vibes! The collection includes to different styles of ears. The first pair is covered with an underwater scene fabric where you can spot Mickey and friends (even Stitch) scuba diving. The second pair is a darker shade of teal with a cream tropical print and a opo of purple. Both pair with the rest of the clothing in the collection.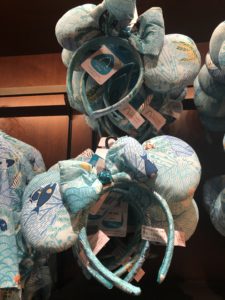 Can't get enough Minnie ears?  Check out past week's editions of Mouse Ears Monday!  Be sure to check in next week for another round of boutique Minnie ears!
Are you looking to plan a Disney vacation, but aren't sure where to start? As an agent with MickeyTravels, when you book your trip with me, I will be on hand to help you with everything! From finding the perfect package for your needs, to rate monitoring to ensure you are receiving the best price available from Disney. I work with all Disney Destinations, and can help you make the most of your magical vacation. Best of all, my services are absolutely FREE. Get in touch via email at mgrossdaichman@MickeyTravels.com or calling 732.239.4452. Also, make sure to CLICK HERE to follow along with my Facebook page for all things Disney!