Fish and Chips? Yes Please!
Fish and Chips Minnie ears? Yes please! Lately we've been seeing a TON of new ears hit stores in Disney. This pair, spotted at the Queen's Table in the UK Pavilion, will have you saying "yum" and not just because your outfit is cute! Introducing fish and chips…not just  a meal anymore.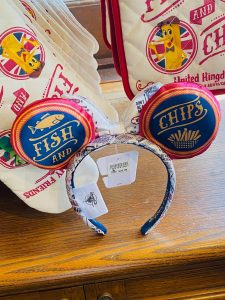 "I read the news today…"
Now that I've gotten a quick Beatles nod in there (honestly, there was no way I could write something related to the UK without one), let's talk about the details of these ears. The bow is made of a newspaper print fabric. This is done as a nod to to traditional fish and chip shops that used to wrap their food in newspaper. You'll even find your fish and chips wrapped this way in EPCOT.  I do the enjoy the "It's Always Beer O'Clock" headline!

The ears themselves are double sided and feature what can only be described as caricatures of, well, our  new friends "Fish" and "Chips". Seems to me like a throwback to the "Food Rocks" days (yes, I love Soarin' but I will always love Veggie Veggie Fruit Fruit"). I can only presume that "Fish" and "Chips" speak with a lovely British accent and are always up for a pint.
The back of the ears is much simpler, depicting fish and chips as food rather than characters.
Ready For the Pub
Do these ears having you saying yum or yuck? Regardless of how you  feel about your food taking on a personality, one thing is for certain, these ears are perfect to pair with a pint and dare I say it, fish and chips, at the Rose and Crown pub!
Are you looking to plan a Disney vacation, but aren't sure where to start? As an agent with MickeyTravels, when you book your trip with me, I will be on hand to help you with everything! From finding the perfect package for your needs, to rate monitoring to ensure you are receiving the best price available from Disney. I work with all Disney Destinations, and can help you make the most of your magical vacation. Best of all, my services are absolutely FREE. Get in touch via email at mgrossdaichman@MickeyTravels.com or calling 732.239.4452. Also, make sure to CLICK HERE to follow along with my Facebook page for all things Disney.