Come out to Socialize in this New Retro Haunted Mansion Dress!
We are just dying to have this new arrival at the The Dress Shop on Cherry Tree Lane, located in Marketplace Co-Op in Disney Springs. You will be no foolish mortal in this dress, themed after the fan favorite ride, The Haunted Mansion.  Let us take a closer look at the amazing details of this dress (if you dare!).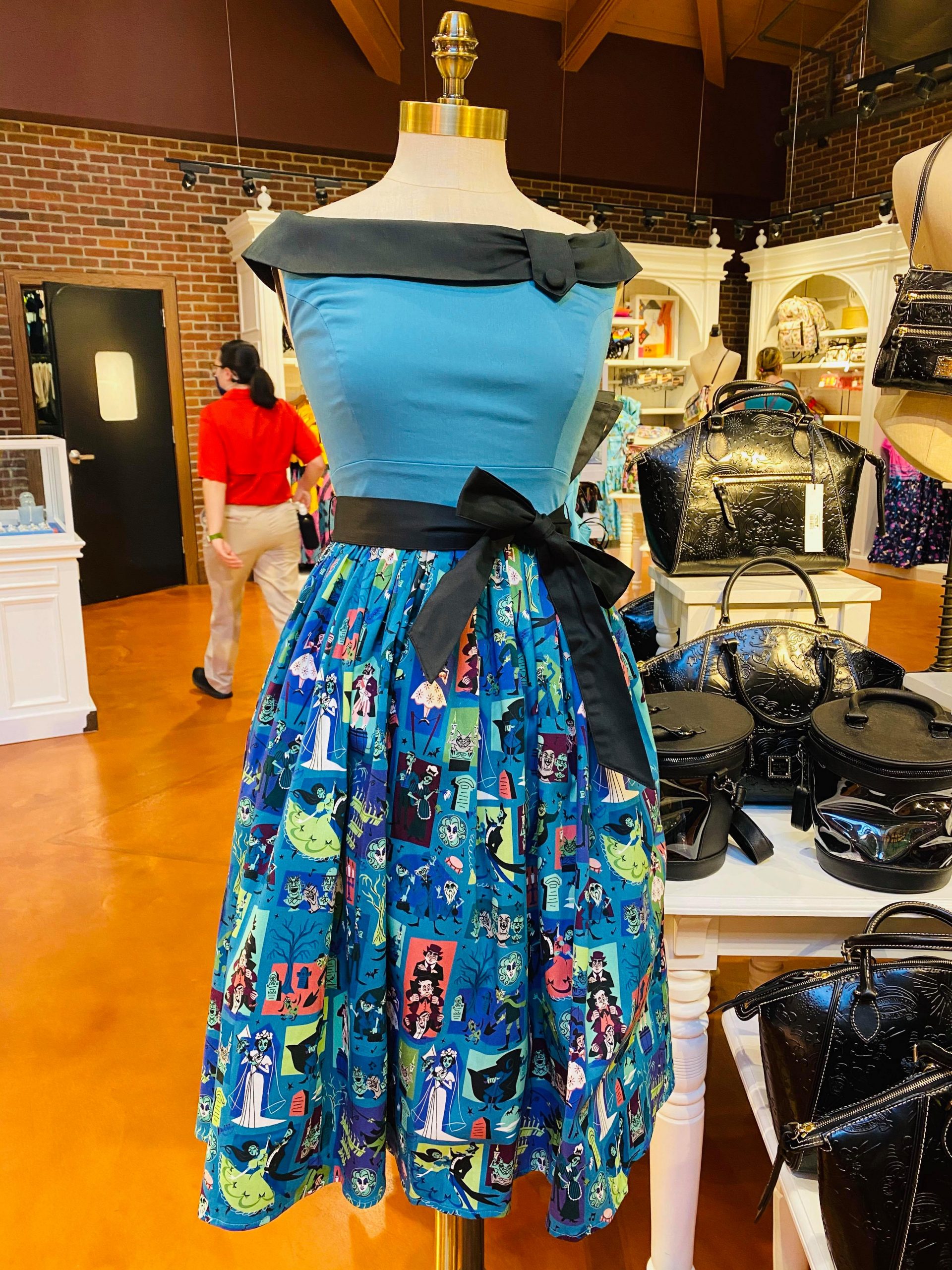 The sleeveless vintage style A-Line dress features a light blue top with a printed skirt featuring some of The Haunted Mansion's famous residents.  It is complimented with an adorable black belt and bow at the waistline.
Characters Any Foolish Mortal Will Recognize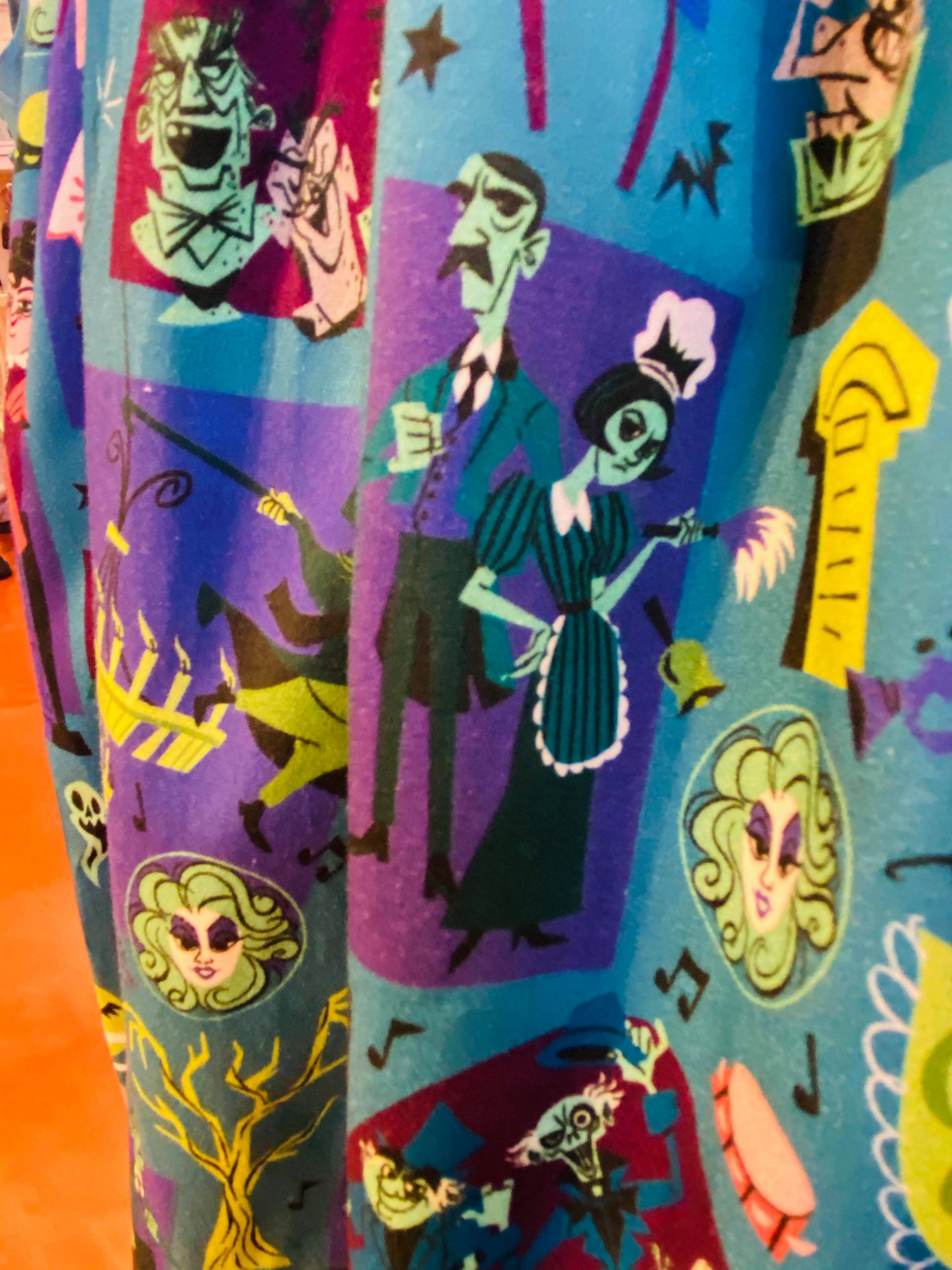 Any Haunted Mansion fan will instantly recognize the characters on the beautifully designed pattern on the skirt!  Materializing on it are The Hitchhiking Ghosts, Madame Leota, Ghost Hosts, and the singing busts!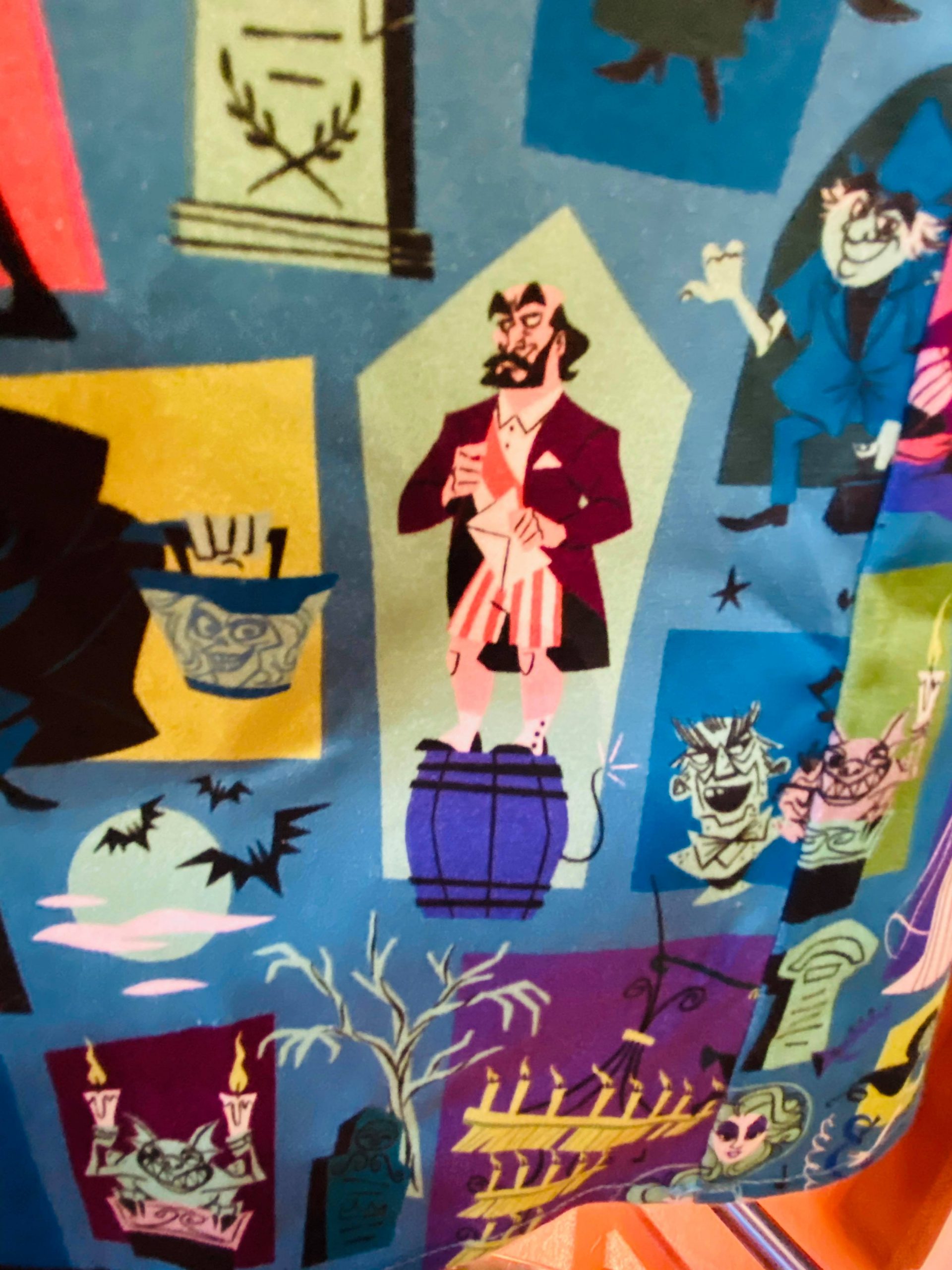 The four stretching portraits and the infamous Hatbox ghost also make an appearance.  The details on this dress are really to die for!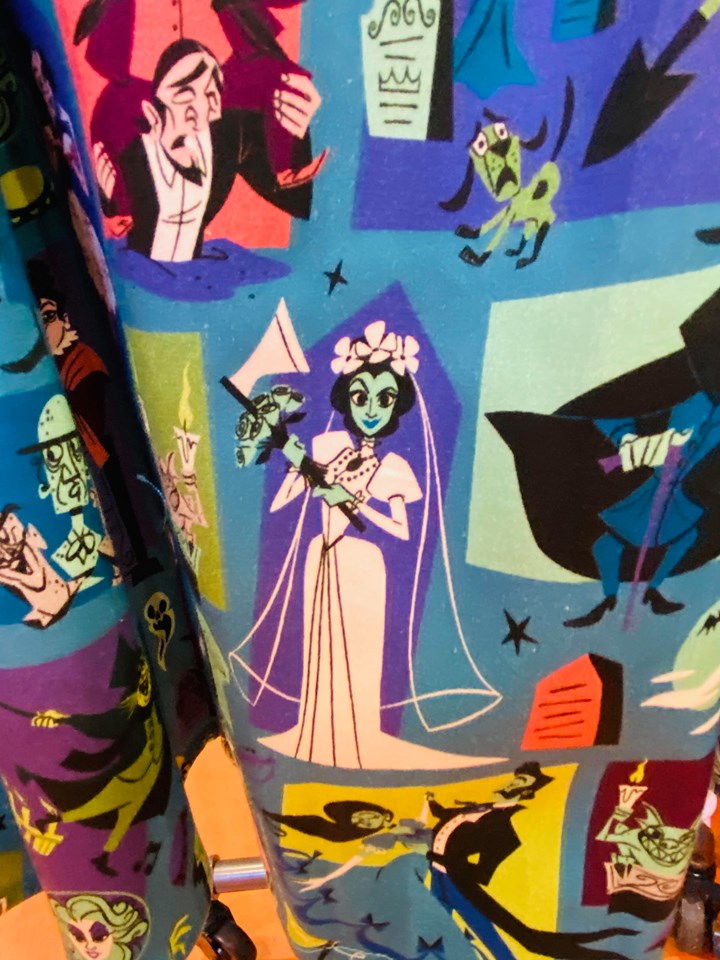 Also included on the dress pattern is everyone's favorite bride, Constance Hatchaway. She is, of course, pictured with every bride's wedding day necessities – a bouquet and a hatchet..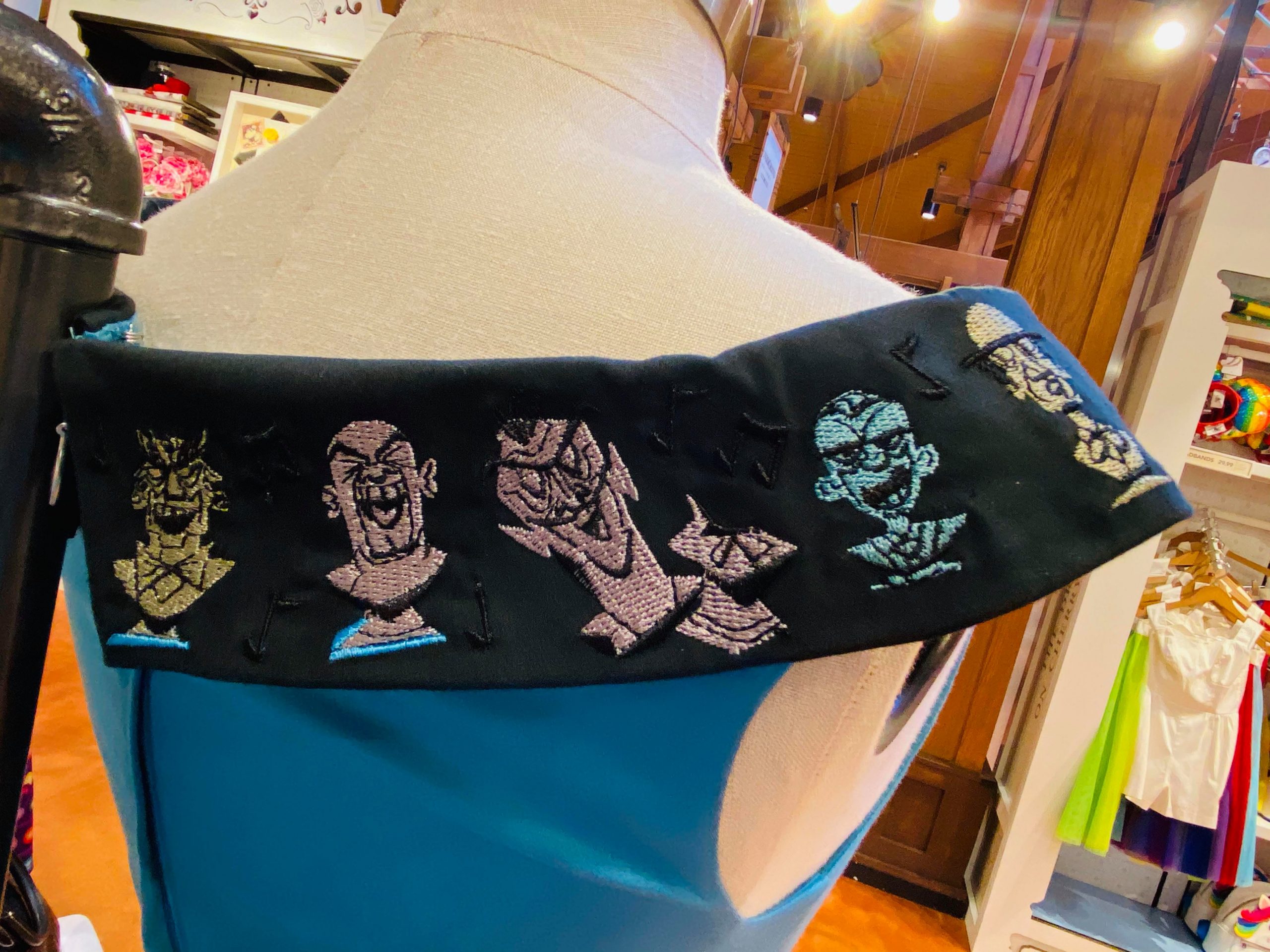 Finally, our favorite detail of the dress is on the back collar.  Embroidered with intricate detail are the singing busts and music notes- as they famously belt out "Grim Grinning Ghosts".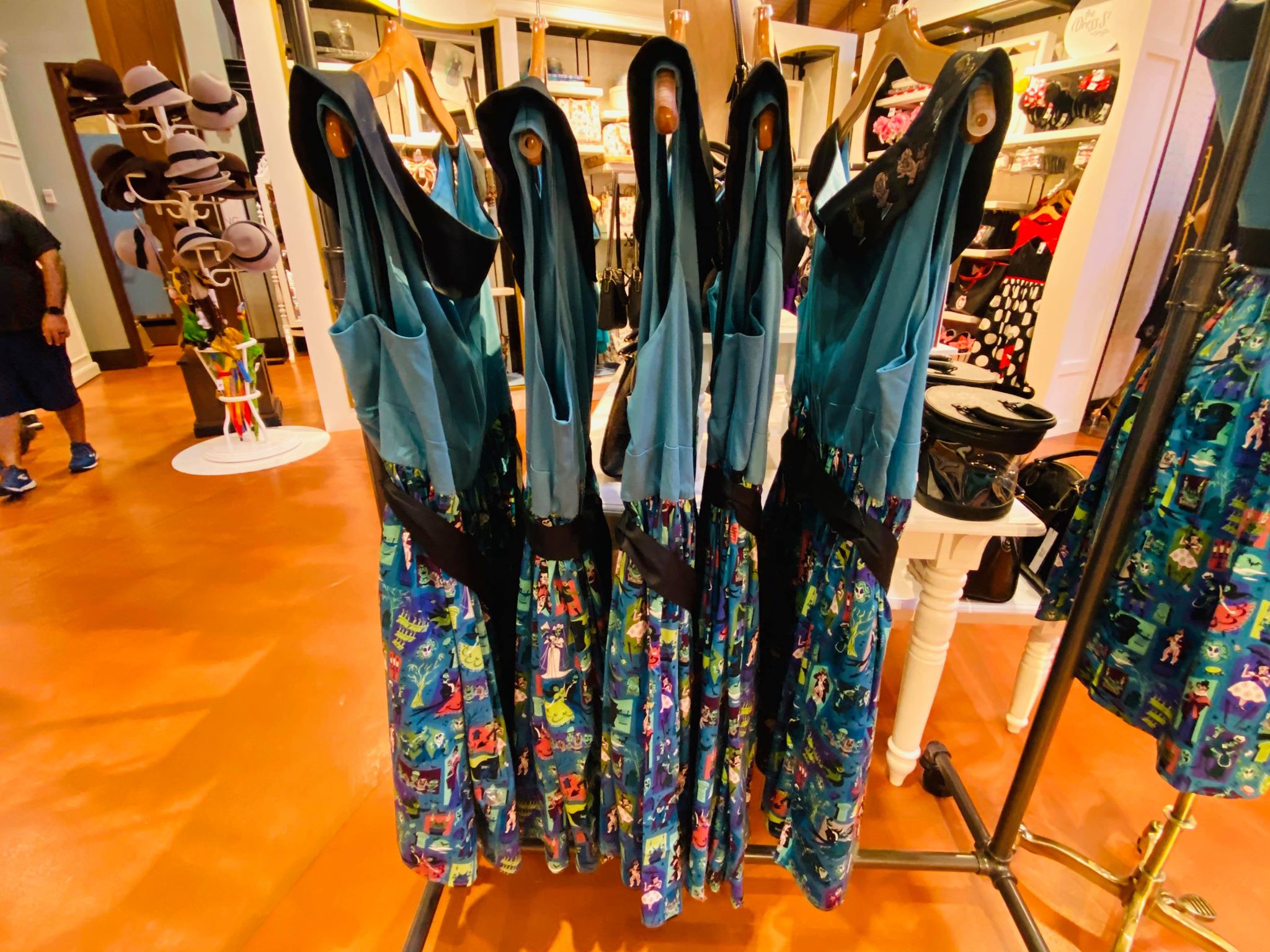 The dress retails at $128.00 and can be found at The Dress Shop on Cherry Tree Lane, located in Marketplace Co-Op in Disney Springs.
Check Out More Haunted Mansion Merch, If You Dare…
Even though we are in the dead center of summer, shelves are beginning to be stocked with Halloween season items.  This makes it a perfect time to pick up all things Haunted Mansion!  If you are a fan of this dress, be sure to check out this matching blouse or these frighteningly awesome Crocs that we found at Momento Mori in the Magic Kingdom.
Ready to pack your doom buggy and join the Hitchhiking Ghosts at your favorite Disney park? Start planning your next vacation- it's easy! Simply fill out our form below to get your FREE, no-obligation quote from MickeyTravels.
Find articles like this helpful? Then why not consider working with an Authorized Disney Vacation Planner? As an agent with MickeyTravels, I'm here to help you with everything you need to make your Disney Vacation Magical- including finding the perfect vacation package, discounts, rate monitoring, and more! Best of all my services are absolutely FREE.  Get in touch via email at KHill@MickeyTravels.com or follow along on Facebook!