This Ralph Breaks the Internet Doll Set Includes 15 Disney Princesses
Remember that scene in Ralph Breaks the Internet where Vanellope stumbles upon the entire Disney Princess universe? Of course you do! Who could forget!? Well now you can own an entire set of Ralph Breaks the Internet Disney Princess dolls! Check out this fantastic gift set we recently spotted in Magic Kingdom.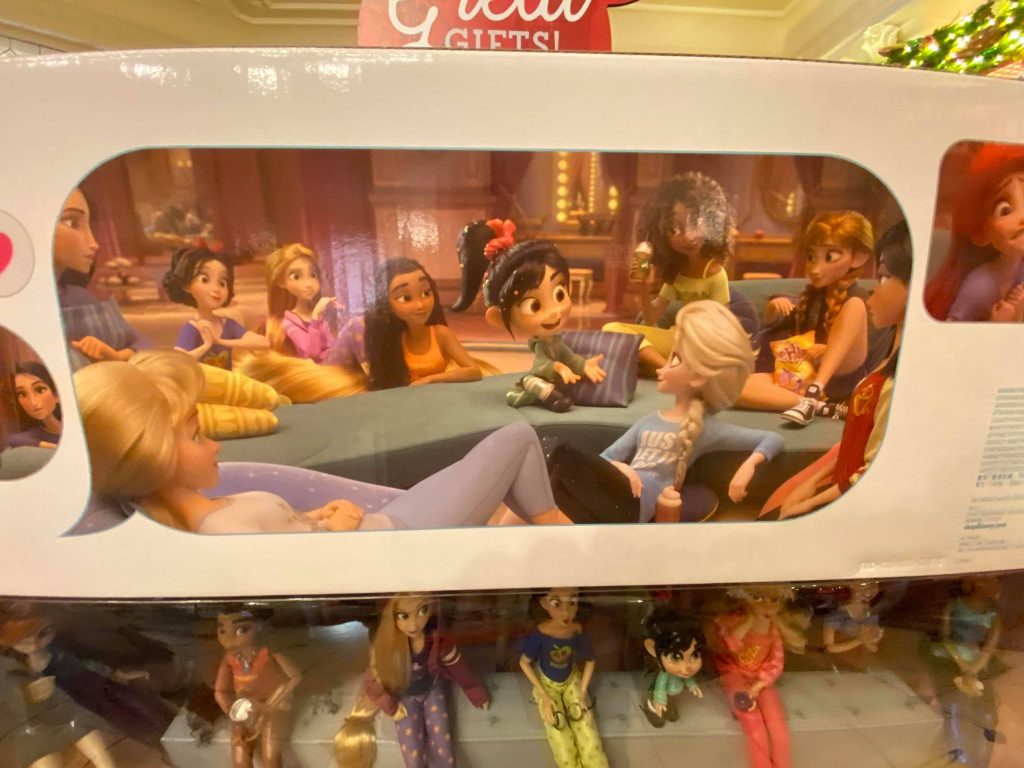 Ralph Breaks the Internet Disney Princess Doll Set
This gift set includes 15 dolls dressed in their "comfy" attire, as they appear in Ralph Breaks the Internet. The princesses included are: Vanellope, Anna, Elsa, Moana, Cinderella, Rapunzel, Mulan, Snow White, Merida, Tiana, Aurora, Pocahontas, Ariel, Jasmine, and Belle.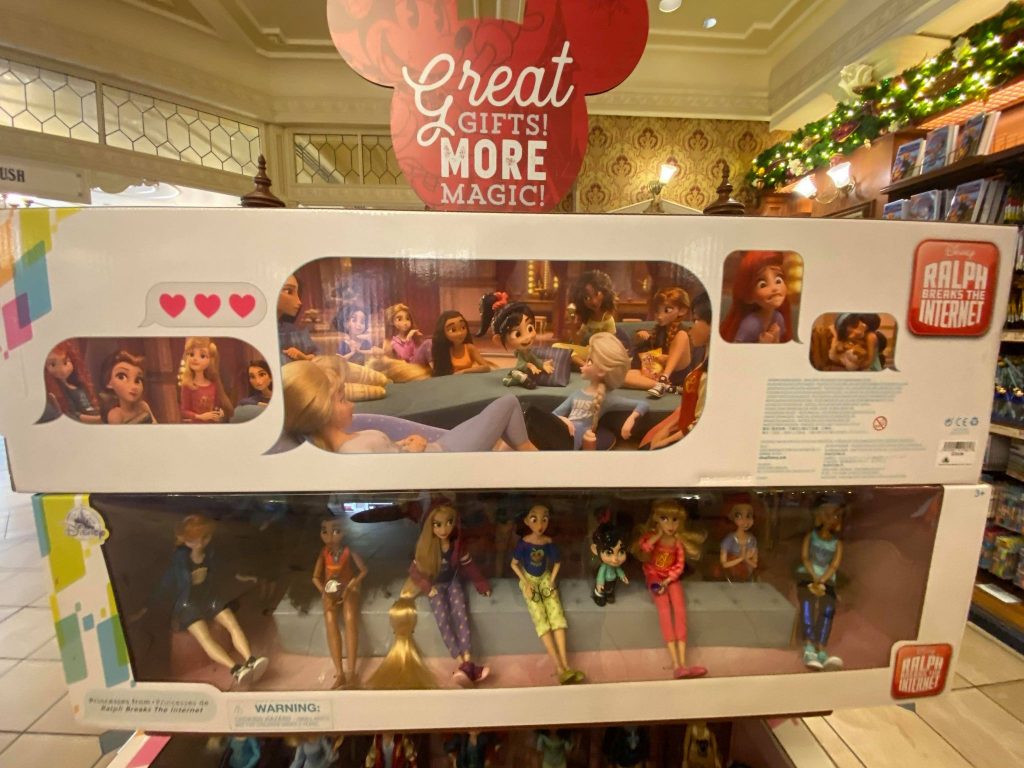 The princesses get a modern update thanks to their hip loungewear with trendy catchphrases.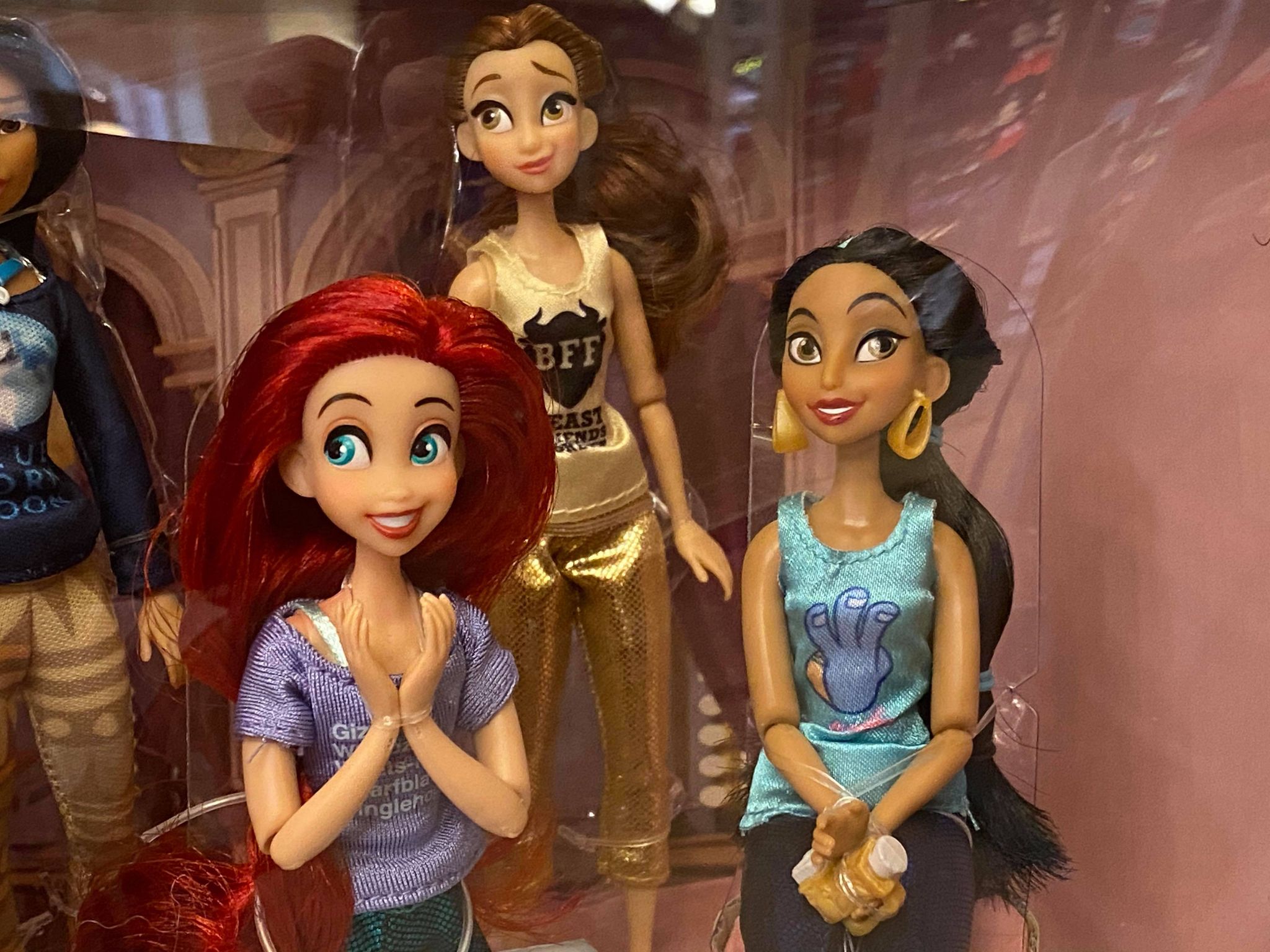 Ariel is sporting a purple tee that says "gizmos & whoz-its & whats-its & snarfblats & dinglehoppers". Belle is looking fabulous in her all-gold outfit with tank that says "BFF Beast Friends Forever". And Jasmine (complete with inhaler accessory) is wearing a tank with the Genie's fingers on it.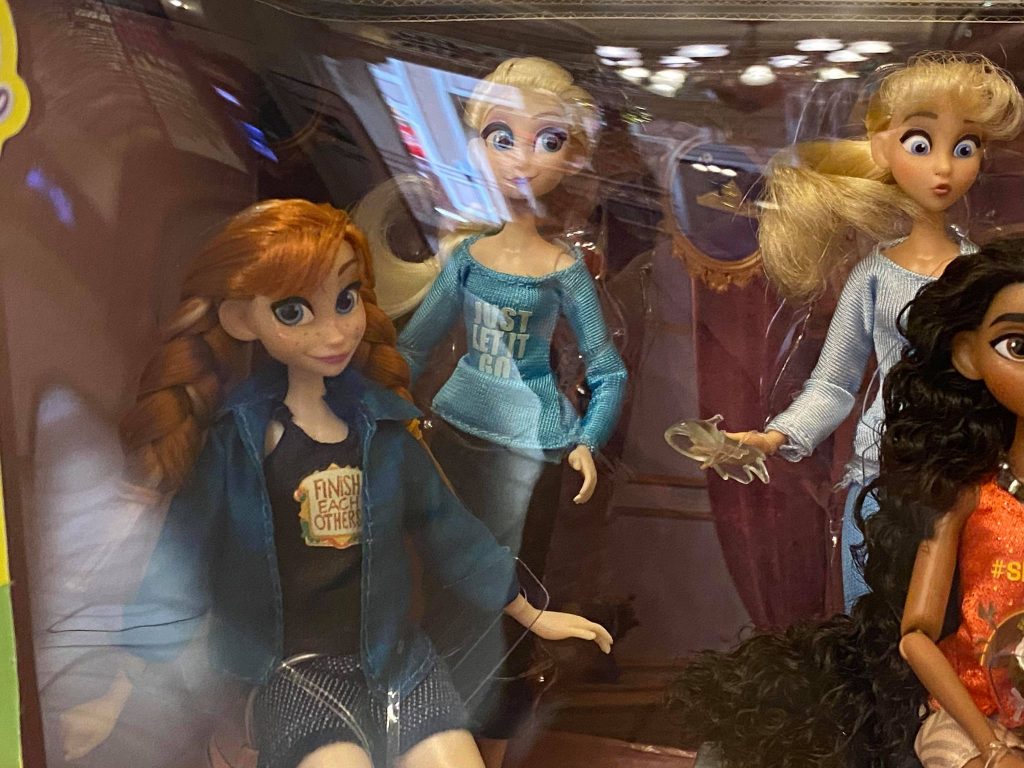 Anna is donning her signature braids and a tank that suggests we finish each other's sandwiches. Elsa's aqua blue top says "just let it go".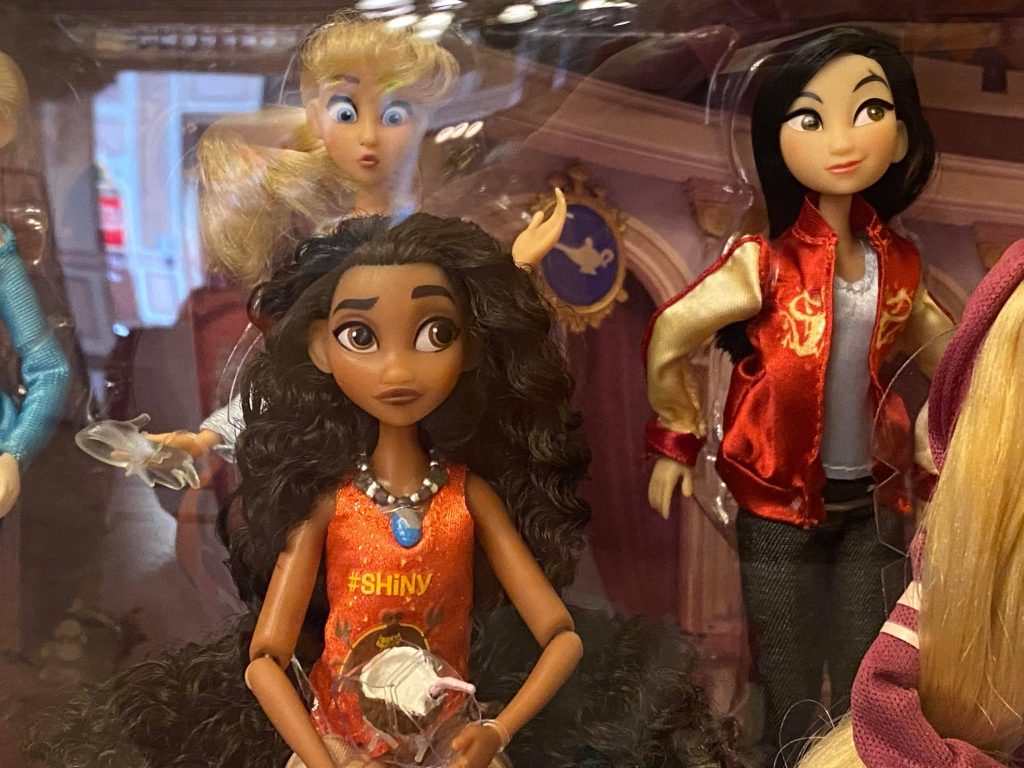 Cinderella comes with her glass slipper and an extremely surprised expression on her face! Moana's bright orange tank says "#Shiny" with a graphic of Tamatoa. And Mulan is looking sassy with her red and gold dragon track jacket!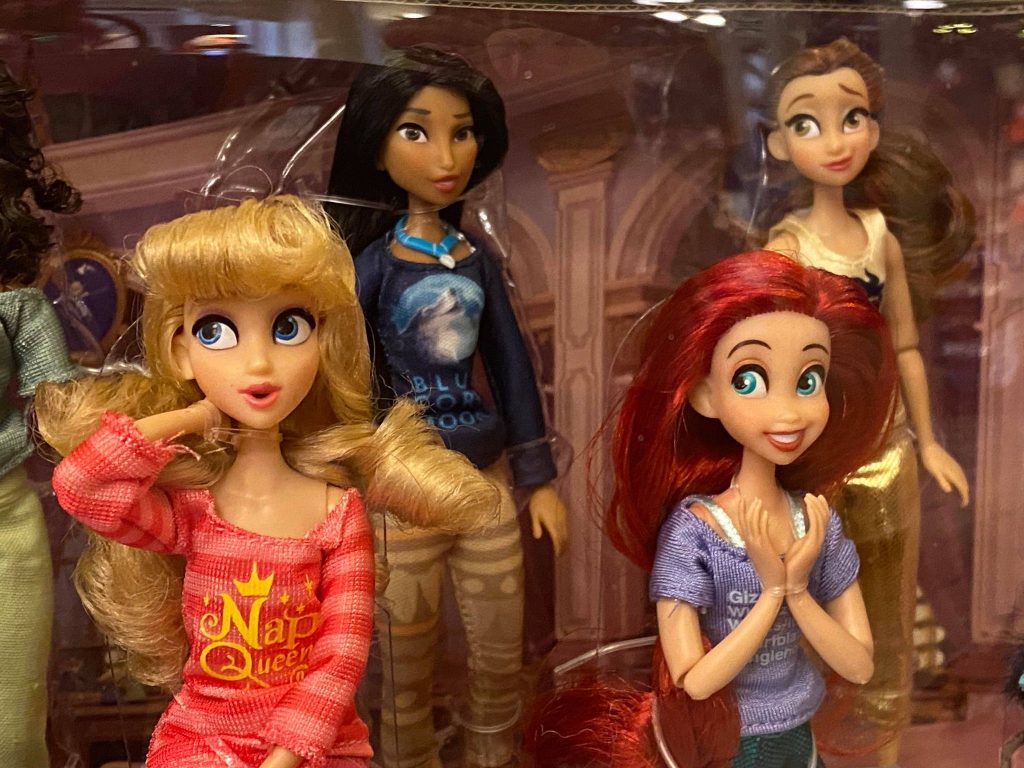 I love how each Princess has a different expression! It's a great indication of how different their personalities are.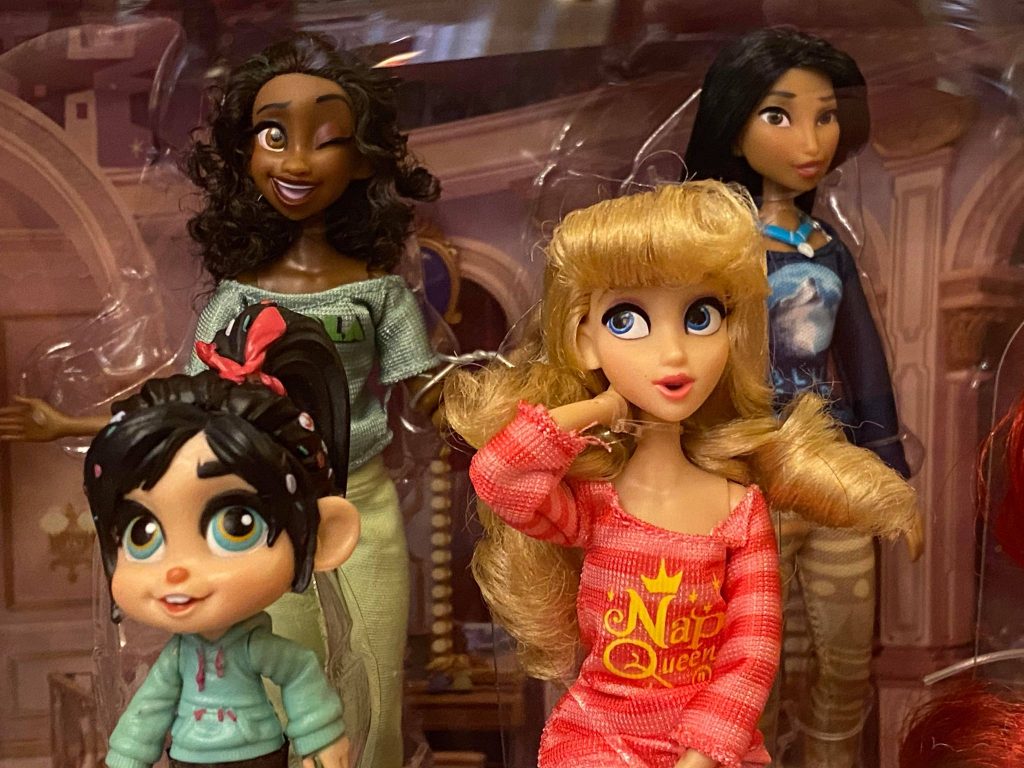 Tiana is rocking her curls and giving a flirty wink. Her green shirt says "NOLA". Pocahontas is wearing her signature turquoise necklace and a long sleeve top with the image of a wolf and the words "great corn moon".  Aurora is sporting a pink striped top that says "Nap Queen". And of course, Vanellope is looking as darling as ever with her wide eyes and signature outfit.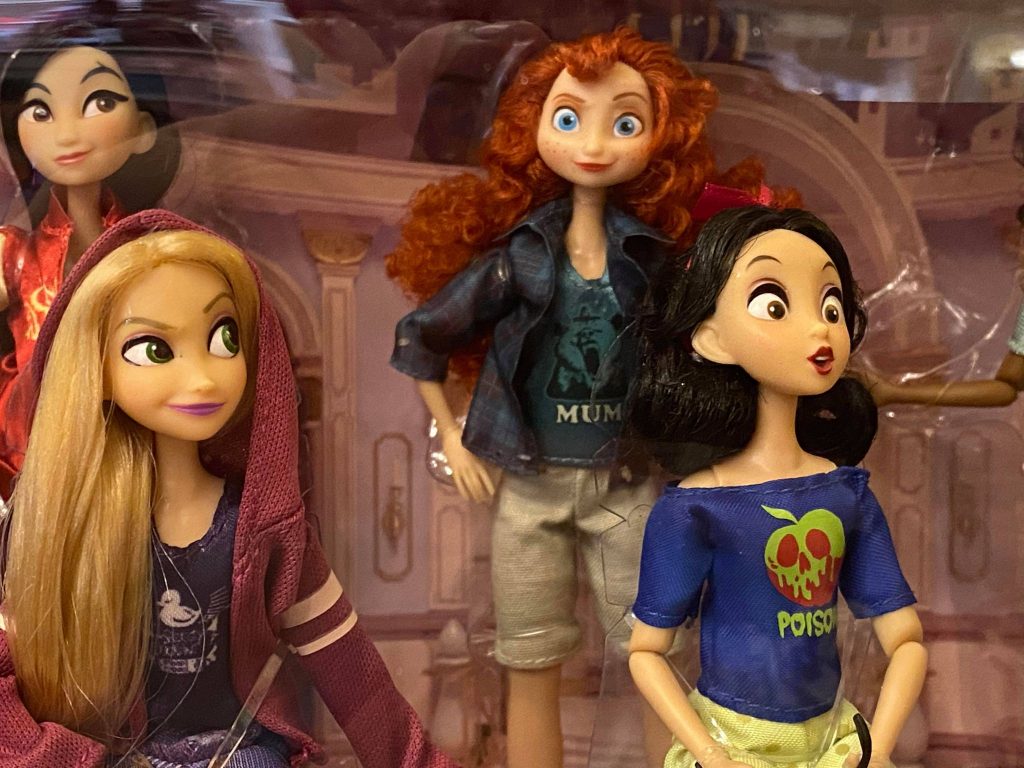 Merida is looking fiery in her jade green bear shirt (notice the word "Mum" referring to her mother being turned into a bear!) Snow White is rocking an off-the shoulder shirt with a poison apple graphic. And finally, Rapunzel is looking cozy in a hoodie and purple top referencing the Snuggly Duckling.
Where to Purchase
We spotted this specific set at the Emporium in Magic Kingdom for $124.99. Although, we're a little confused on the pricing because the same set is currently available on shopDisney for $119.99. Pick yours up today! This would make a great holiday gift for those Disney Princess fans in your life!
Dreaming of a Disney Christmas?
I can help make your vacation extra magical!
Fill out the form below or email me at MLawlor@MickeyTravels.com for a no-obligation quote. As an agent with MickeyTravels, a PLATINUM Level Authorized Disney Vacation Planner, I specialize in making magical memories. I will be on hand 24/7 to ensure your vacation is nothing short of perfect. I work with ALL Disney destinations, including Aulani, Disney Cruise Line, and Adventures by Disney. Best of all, my planning services are always 100% FREE! Contact me via email: MLawlor@MickeyTravels.com or call: 1-603-540-3745. And be sure to follow me on Facebook and Instagram (@missyandthemagic) for all the latest Disney news and updates!