Shop Small Saturday; Disney Edition!
Welcome to "Shop Small Saturday; Disney Edition"! I love to support, promote and let's be honest here, shop the wonderful variety of  Disney related small shops out there.  That's why, I've decided to bring you "Shop Small Saturday". Every few weeks, we'll feature some of our favorite small shops. Kicking us off, we have 999 Spyglass and Park Hopper Collective.
999 Spyglass
Currently, I have four hats from 999 Spyglass. I'll admit it, they are an addicting purchase. Based out of Baltimore, MD the hats from 999 Spyglass are soft, comfy and Claire (the shop owner) will basically put whatever design you can come up with on them. Including, but not limited to, any Disney design.
The most recent addition to her shop is the "Harambe" design. As she puts it, perfect for those looking for a "subtle Disney nod" and stays true to her brand.
Spooky Season
Looking for a way to rep your favorite spooky mice? 999 Spyglass has you covered (literally). Also, peep that Main Street Electrical Parade hat. 
Custom Designs
I would be remiss if I didn't include examples of some of her custom work. These two are mine and as you may or may not know, I love all things "Up" (and apparently balloons). How cute is Dug?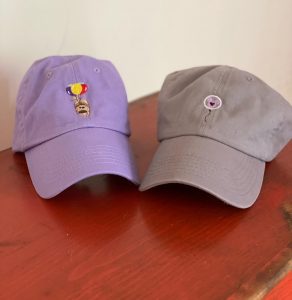 Most designs are available on both dad hats (soft) and drifit hats (great for running/exercising) as well as shirts. From your delicious Disney snacks to your favorite characters, 999 Spyglass can make your headwear dreams come true.
Park Hopper Collective
I recently came across  Park Hopper Collective while scrolling through my Instagram feed.  Now sold out, I was able to snag one their "House Ariel" designs (fingers crossed that it will eventually make a return). Fear not though, their other designs are perfect for park adventures!
This weekend they are celebrating their third anniversary, so it only seemed fitting to include them. Park Hopper Collective are "firm believers in supporting local artists and businesses". Everything they do is either designed by them or other Disney community artists.
Classic!
The shop's best seller, which has been restocked twice already, is their "Classic" shirt. They're available in blue and, keeping on trend, a bleached option.
Space Kiss
The most recent addition to the shop is their "Space Kiss" design. Space Kiss is Park Hopper Collective's first Star Wars design. Inspired by Carrie Fisher aka Princess Leia aka General Organa (whatever you call her, she's FABULOUS and FIERCE), this design is the perfect ode to her !
Where do you shop?
Hope you've enjoyed this week's edition. Have a small shop that you love or own and want to see featured? Let us know!
Are you looking to plan a Disney vacation, but aren't sure where to start? As an agent with MickeyTravels, when you book your trip with me, I will be on hand to help you with everything! From finding the perfect package for your needs, to rate monitoring to ensure you are receiving the best price available from Disney. I work with all Disney Destinations, and can help you make the most of your magical vacation. Best of all, my services are absolutely FREE. Get in touch via email at mgrossdaichman@MickeyTravels.com or calling 732.239.4452. Also, make sure to CLICK HERE to follow along with my Facebook page for all things Disney!