NEW 25th Anniversary Food and Wine Pin Series!
We were live at Epcot this morning for the premiere of the 2020 Food and Wine merchandise, including the all new limited edition 25th Anniversary Food and Wine Pin series!  Check out these new pins that are a must have for any pin collector!
25th Anniversary Food and Wine Pin series
Today Disney released a series of limited edition pins that all celebrate the 25th Anniversary of the Epcot International Food and Wine Festival.  All of these pins feature a stacked design with the base layer being a colored version of the iconic Spaceship Earth.  They also all have the words "2020 Epcot Food and Wind Festival."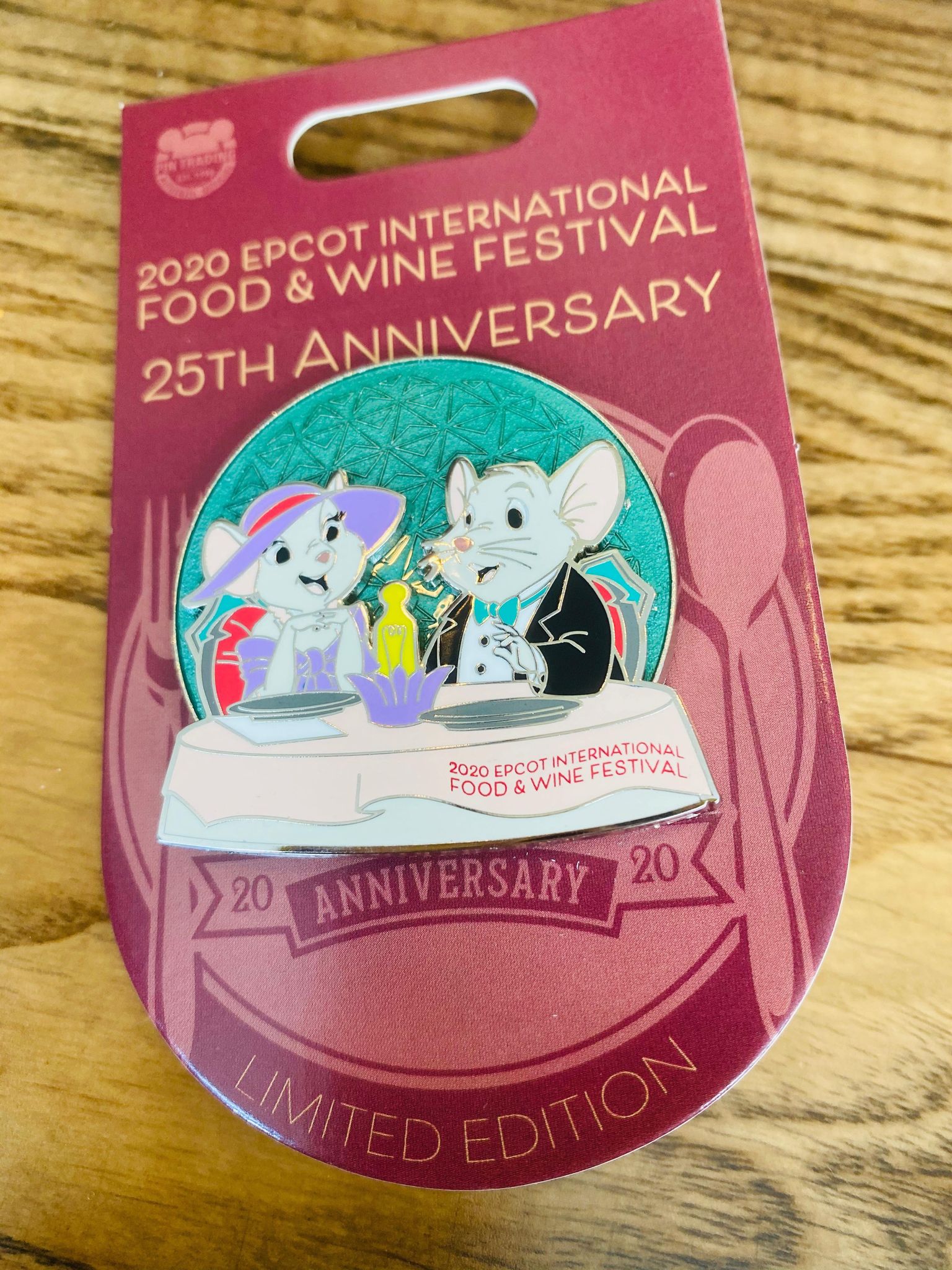 The first pin of this series features the movie The Rescuers.  Miss Bianca and Bernard are enjoying a dinner together.  This pin has shades of teal and purple with red and yellow accents.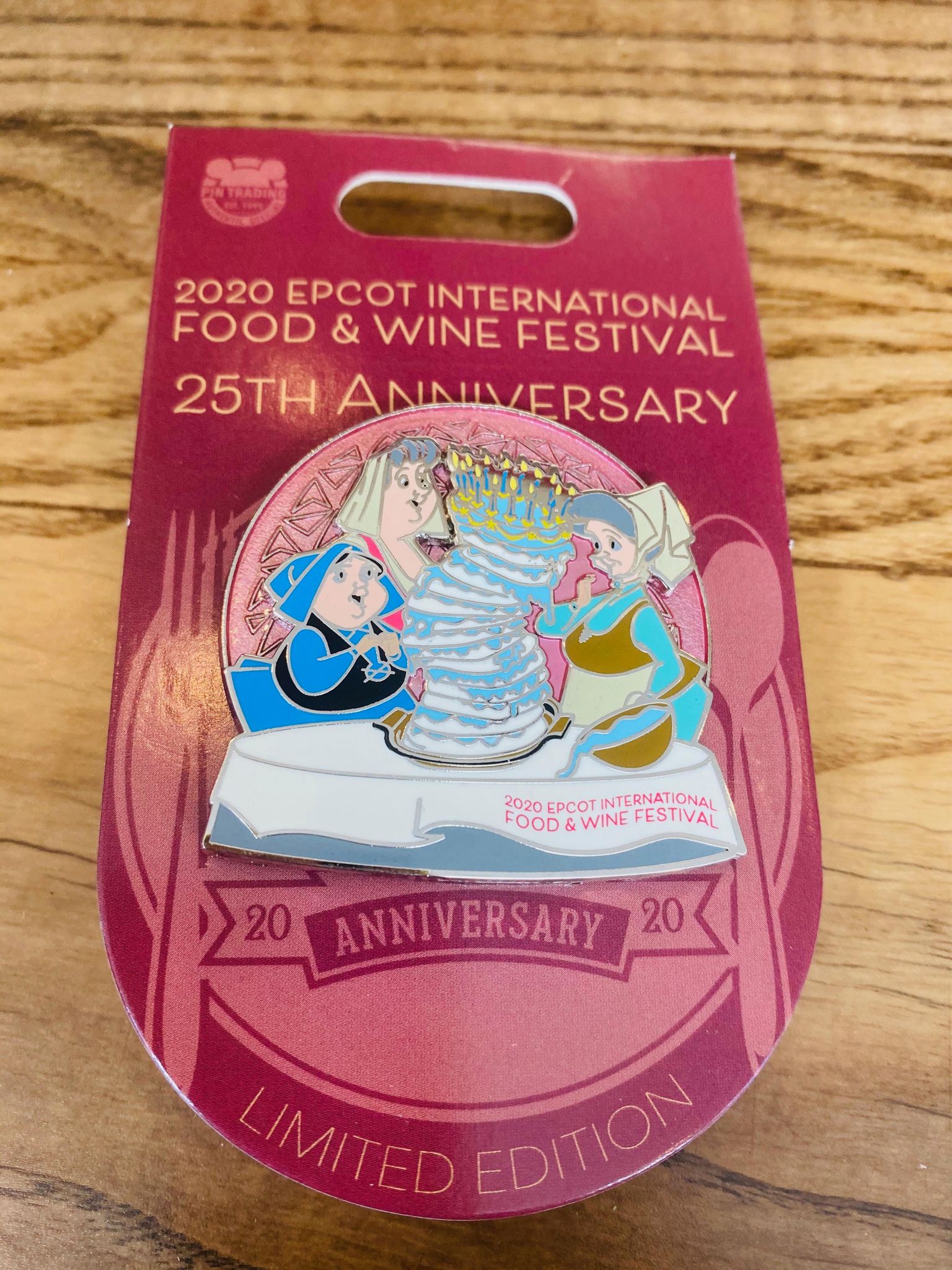 The second pin of this 25th Anniversary Food and Win pin series features Sleeping Beauty's fairies Flora, Fauna and Merryweather.  They are pictured against a pink ball while trying to balance the multi-tiered birthday cake.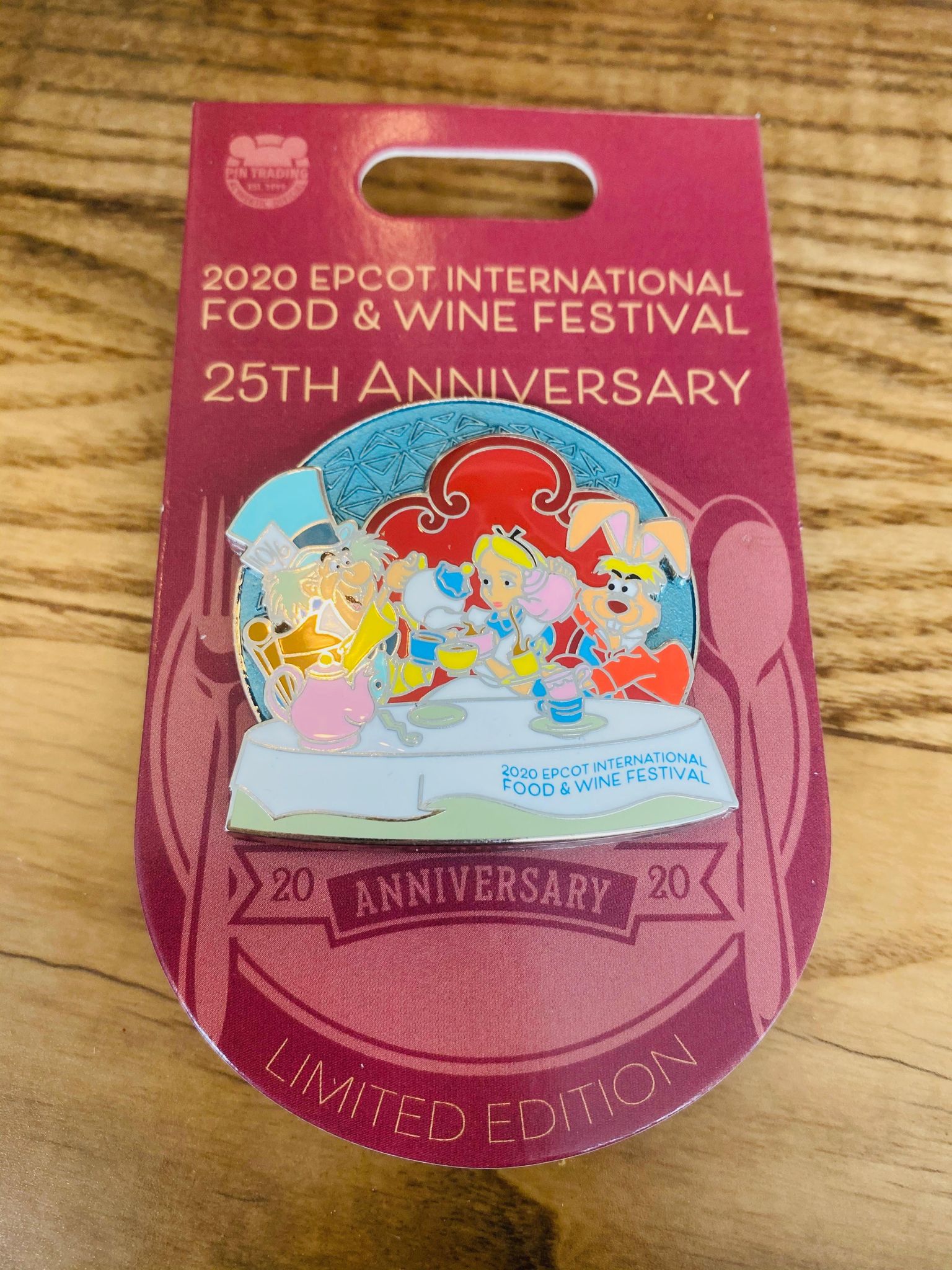 The third pin of this series features Alice and Wonderland with Alice, the Mad Hatter and the Hare enjoying a tea party.  This pin also features bright colors with the blue ball in the background.
Mickey and Minnie Chef Pins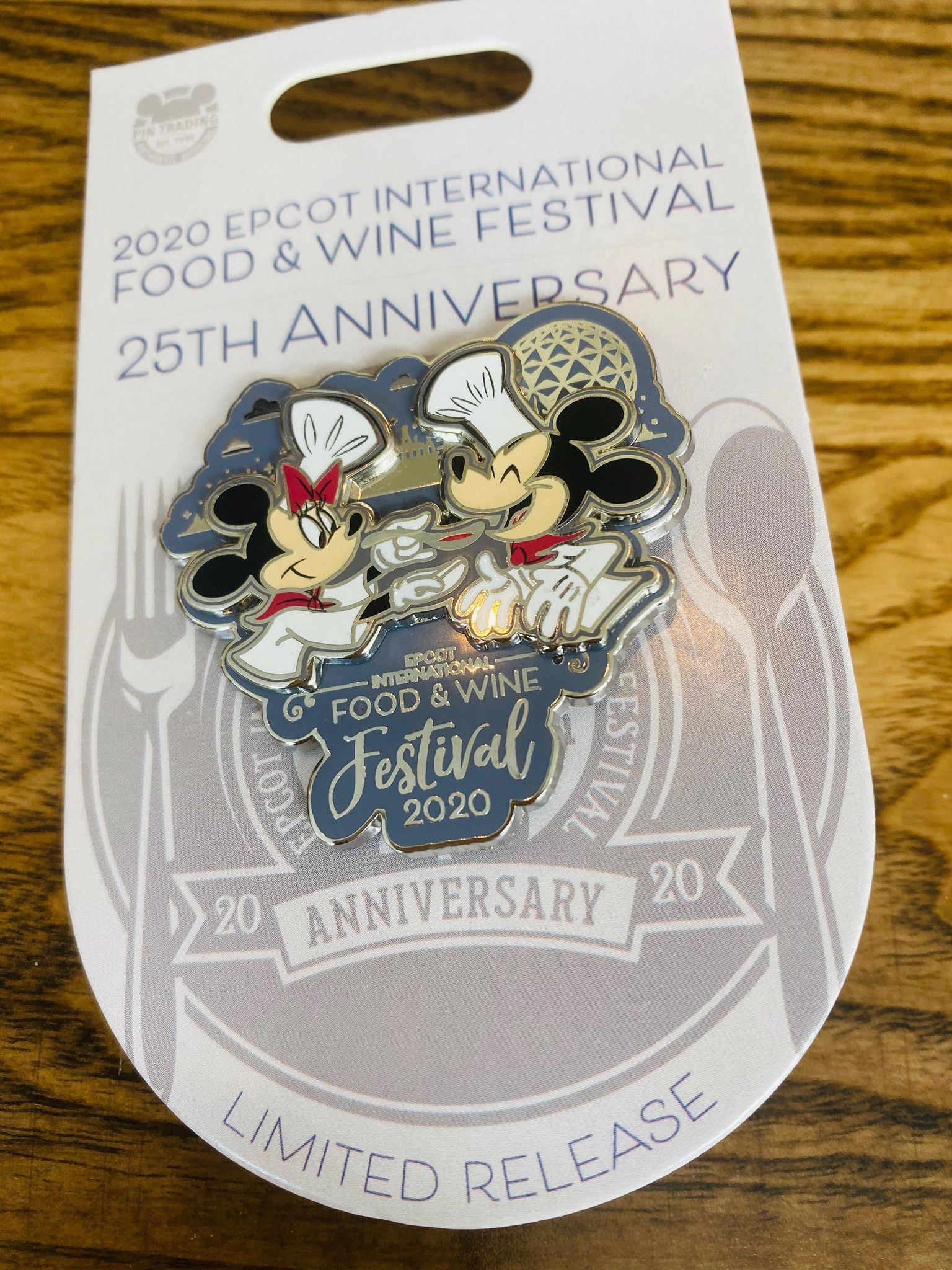 This Limited Release pin features Minnie and Mickey.  They are both dressed in their chef outfits and appear as Mickey tastes Minnie's masterpiece.  Spaceship Earth appears in the background with the words Food and Wine Festival 2020 appearing at the bottom of the pin.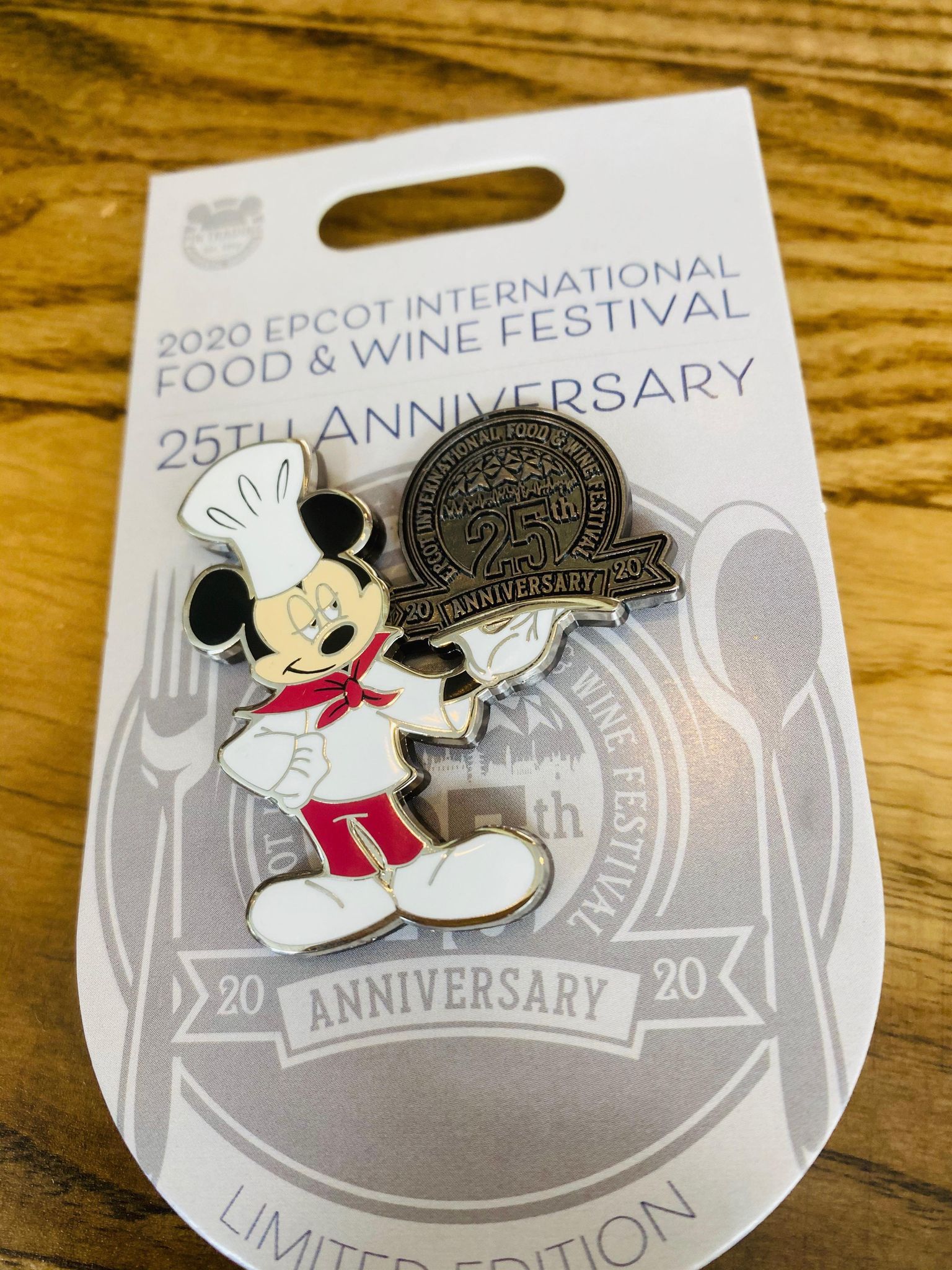 Another pin released today is this pin featuring Chef Mickey.  He appears in a snappy chef outfit with a white jacket and red pants, complete with a chef hat.  He's holding a gold sign commemorating the 25th Anniversary of the Food and Wine Festival.
Beer Pin Collection

Although Epcot's festival is billed as Food and Wine, beer has been taking a larger role in the celebration as well.  This unique collection of pins highlights beer.  There are four different pins all centering around a beer theme.  One is a colored Spaceship Earth and one is a beer stein with the words "Wonderful Time for a Beer."  The other two also feature graphic words all in a similar color palate of silver, black, yellow and teal.  They are a great addition to any collection.
All of these pins range in price from $15.99 to $24.99 and are available at merchandise locations throughout Epcot.  Are you a pin collector?  Which is your favorite?
Thinking about a visit to Disney? Getting started is easy!  Simply fill out our form below to get your FREE, no-obligation quote from MickeyTravels!
Find this article helpful? Then why not consider working with an Authorized Disney Vacation Planner? As an agent with MickeyTravels, I'm here to help you make your Disney Vacation Magical.  I'll find the perfect vacation package, discounts, rate monitoring, and more! Best of all my services are absolutely FREE.  Get in touch via email at AbbyRY@MickeyTravels.com or follow along on Facebook.