Merch at Animal Kingdom is Getting Wildly Spooky!
This is Halloween, This is Halloween…. at Animal Kingdom!
Today at the Riverside Depot in Animal Kingdom, we spotted a large display of new Halloween merchandise! As we have been reporting, AMAZING new Halloween season merchandise has been popping up all around the Walt Disney World parks and resorts.
Frighteningly Awesome Halloween Displays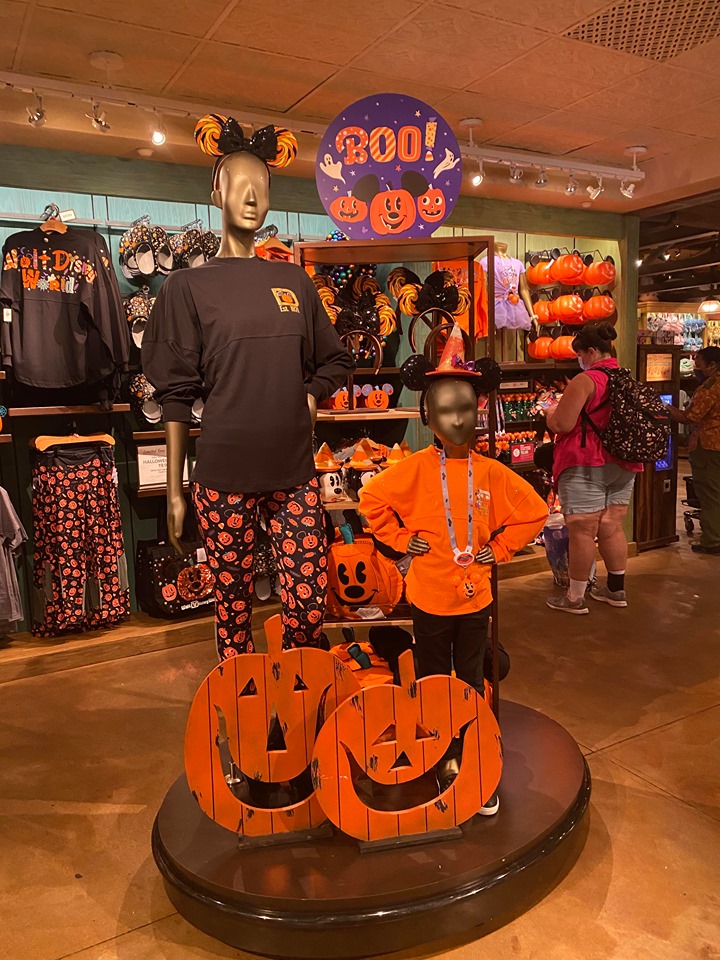 Let me just say, these new Halloween outfits are AMAZING! As you can see, the new spirit jerseys coordinate perfectly with the seasonal Mickey Mouse pumpkin leggings and Minnie Ear headbands!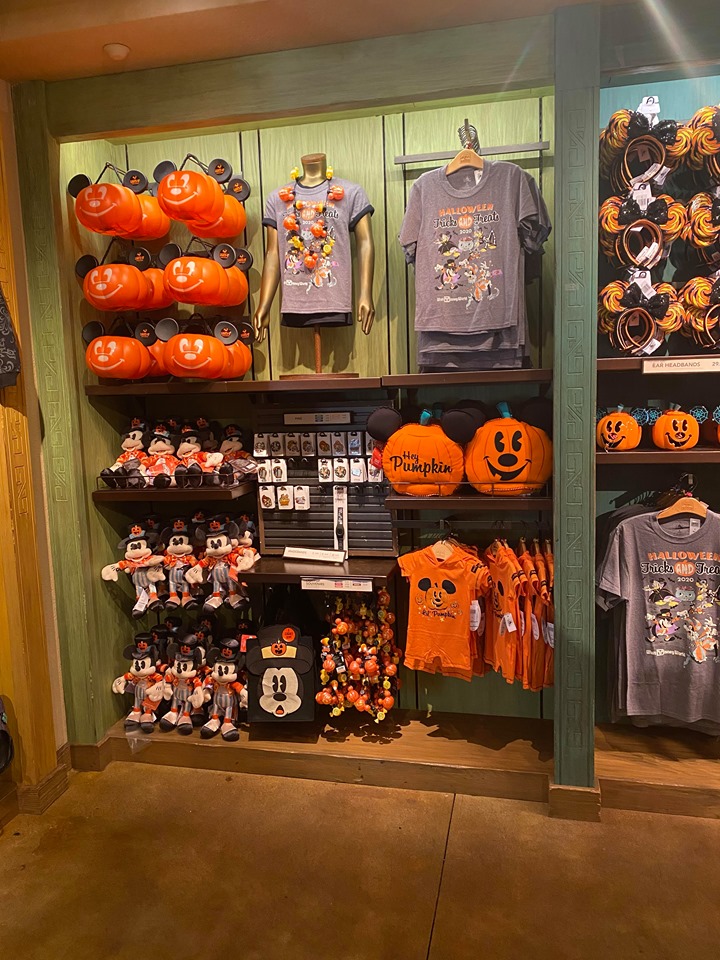 Next, the shelves behind the outfit display are fully stocked with everything Halloween. This includes not only adult and child sized clothing, but also wreaths, Mickey Mouse sequin embellished tote bags, pillows, plushes, and other Mickey Mouse shaped pumpkin home décor!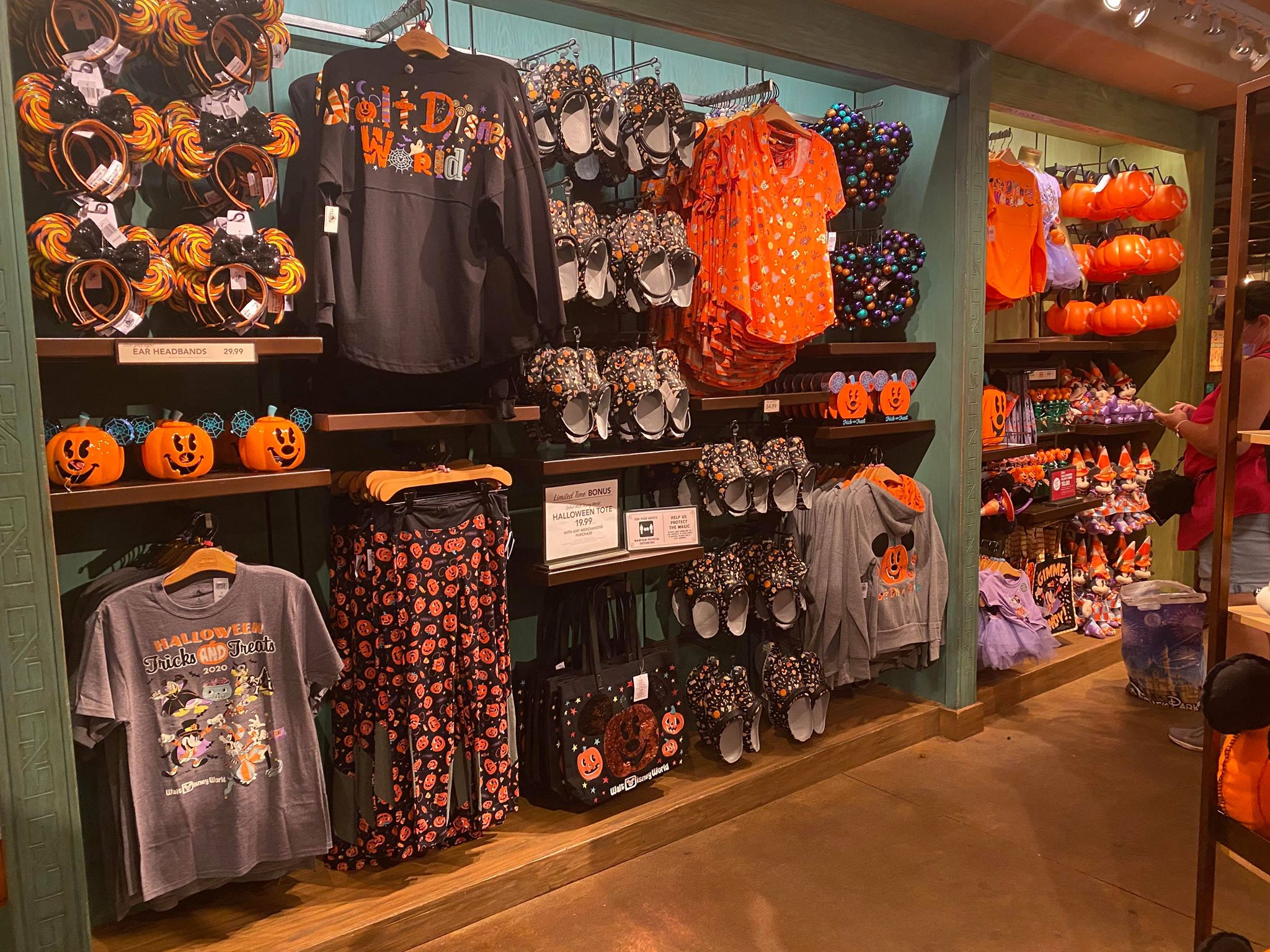 Sweet Tooth Favorites
Who knew you can get all your Halloween night essentials all at the Animal Kingdom? The Mickey Mouse pumpkin Trick-or-Treat bowl is perfect for storing all sorts of candy. For collecting the candy, the 'sugar rush' Mickey Mouse tote bag  is perfectly sized and lightweight.  For those of us who prefer to bake their sweets, the apron and dish towel might just be the perfect spooky kitchen neccessity this season.

Putting the "Spirit" in Spirit Jersey…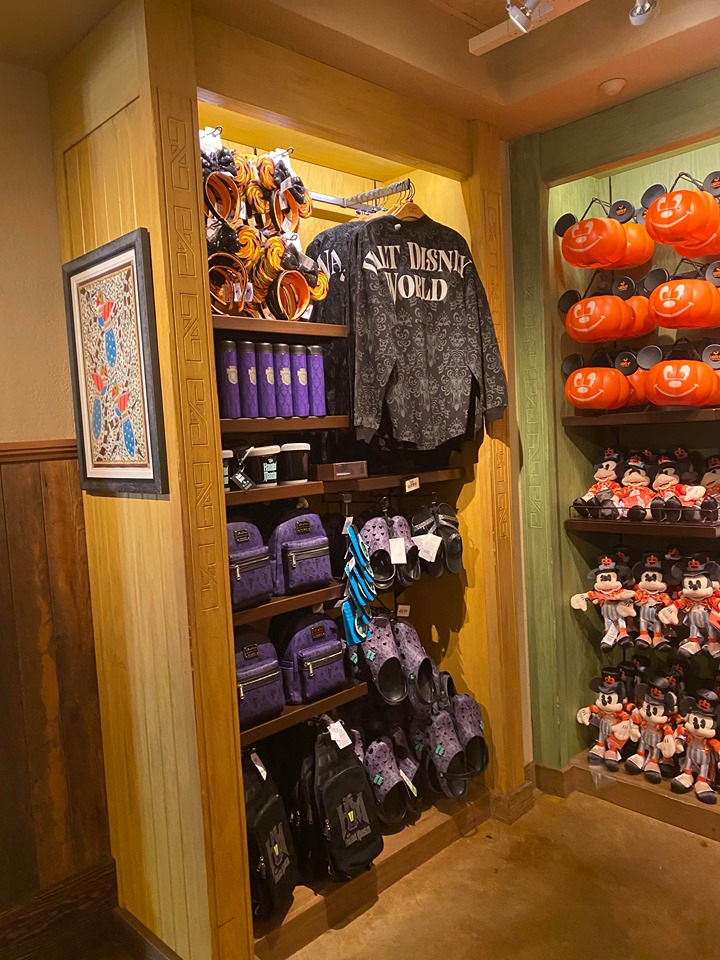 It would not be Halloween without mentioning everyone's favorite spooky ride. Finishing up the Halloween display at the Riverside Depot is the newest Haunted Mansion merchandise.  Included are the Spirit Jersey, Loungefly backpack, Crocs, and Mugs that we have also spotted at the World of Disney store and Momento Mori in Magic Kingdom.
SUCH Spook-tacular Merch!
You never know where new Halloween merchandise will pop up next at Walt Disney World and Disney Springs.  What we do know is that we are dying to get our hands on ALL of it!
If you cannot make it to Walt Disney World this Halloween season, do not worry! You can still grab all these amazing items at shopDisney.com.
Ready to experience the magic for yourself? Start planning your next vacation- it's easy! Simply fill out our form below to get your FREE, no-obligation quote from MickeyTravels.
Find articles like this helpful? Then why not consider working with an Authorized Disney Vacation Planner? As an agent with MickeyTravels, I'm here to help you with everything you need to make your Disney Vacation Magical- including finding the perfect vacation package, discounts, rate monitoring, and more! Best of all my services are absolutely FREE.  Get in touch via email at KHill@MickeyTravels.com or follow along on Facebook!