Spooktaqular Mickey Mouse Collection From Pottery Barn Kids
It is already mid August. Which to Disney Park fans means only one thing – the start of Mickey's Not So Scary Halloween season. Now, with everything going on in the world the Disney Theme Parks made the tough decision to cancel the parties this year. However, with the release of Spooktaqular Mickey Mouse Collection From Pottery Barn Kids collection we can bring the celebration to our homes.
Plates
There are four orange, 9 inch plates to choose from. The first has Mickey dressed as a vampire for Halloween and some friendly bats flying around him. The second has Mickey happily sitting on a pumpkin. The third has Mickey wondering around with a candle. He has a shadow that looks like a ghost behind him and the word Eek above him. The last plate has Minnie Mouse dressed as a Witch and flying on a broom. Each plate can be purchased independently for $9.
Bowles
To accompany the plates there are four bowls. Most of the bowl is white, but there is an image at the bottom that coordinate with the plates. The backgrounds of the photos are bright orange and each option has Mickey in a different pose.
Chargers
If you want to leave your table set up the 11 inch black charger plates. The not so spooky plates feature a smiling Mickey Mouse sitting on a pumpkin. There are stars randomly decorating plate. Lastly, the words Happy Halloween are printed across the top.
Cutlery
This adorable fork and spoon set has a bright orange handles. A smiling Mickey Mouse head is on each handle. The utensils are $8 a set.
Tumblers
The 11 oz tumblers are a matching set to the plates and bowls above. The clear cups are safe for the top rack rack in the dishwasher. Each cup is $7.
Mickey Mouse Table Coverings
There are several accessory options to accent your table settings with.
The collection includes a 70 inch long table runner. It is mainly black. There is an embroidered  Minnie Mouse is looking a bit nervous in her bright red dress and bow. She has 2  pumpkins next to her and the word BOO! above her. It can be on your table for $24.50.
According to the Pottery Barn Kids website the placemats made of hardboard, cork, and paper. They are finished with a clear lacquer. So they can be cleaned by wiping them down with a damp cloth and mild soap. The design includes both Mickey and Minnie in various spooktaqular outfits and poses.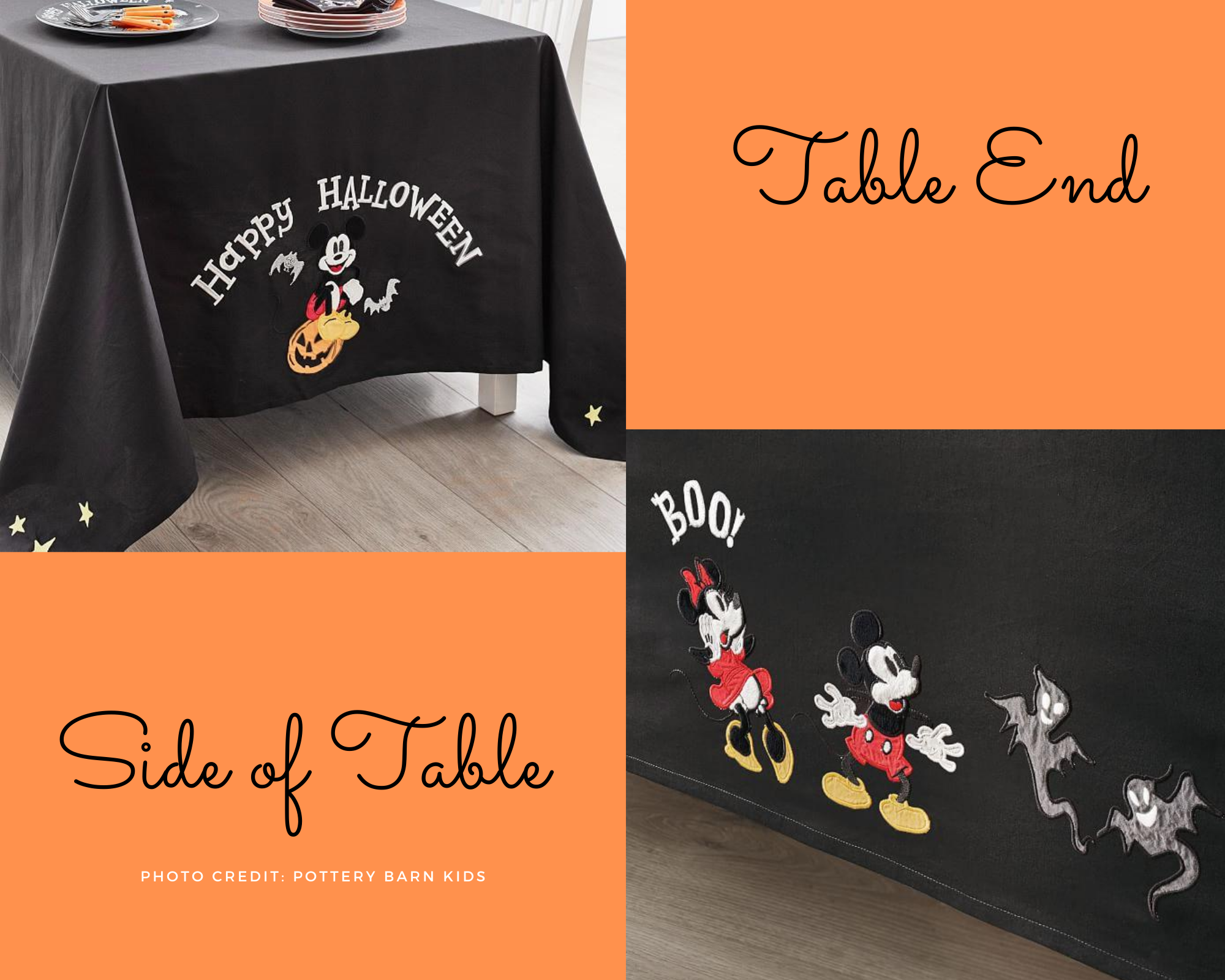 The last table decor is a table cloth that measures 70 inches wide by 90 inches long. The side the the table cloth has Mickey and Minnie running into some ghost like creatures. The end of the table cloth has Mickey sitting on a pumpkin. The words, "Happy Halloween" are above his head.
Mickey Mouse Pajamas
After a delicious meal the kids can snuggle into these cozy pjs. Mickey and Minnie in their Halloween finest are in an all over pattern. The shirt sleeves and pants have a bright orange cuffs.
Bed Sheets
Once the kids are all decked out in their comfy pajamas, they can climb into these hauntingly fun sheets for some candy filled dreams. The sheets come in twin, full, and queen size.
This fall season may look a little different. However, it can still be magical. Will you be purchasing anything from the Spooktaqular Mickey Mouse Collection From Pottery Barn Kids?
Are you thinking about a visit to Disney? Getting started is easy!  Simply fill out our form below to get your FREE, no-obligation quote from MickeyTravels!
Find articles like this helpful? Then why not consider working with an Authorized Disney Vacation Planner? As an agent with MickeyTravels, I'm here to help you with everything you need to make your Disney Vacation Magical- including finding the perfect vacation package, discounts, rate monitoring, and more! Best of all my services are absolutely FREE.  Get in touch via email at ASeeds@MickeyTravels.com or follow along on Facebook.